ASCLS-Idaho
Mini-Leadership 
Academy
Long name…amazing results!  Attendance at the ASCLS-Idaho Mini-Leadership Academy is a MUST for anybody and everybody that WANTS to learn and develop leadership skills that they can use in their work environment, in their everyday life and hopefully…in ASCLS-Idaho.  This one-day event is held each summer at the Snake River Grill in beautiful Hagerman, Idaho.  P.A.C.E. credit is available for those who attend…and lunch is included!  So…all you leaders in the making…come out and join us for this great event!

The 2018 ASCLS-Idaho Mini-Leadership Academy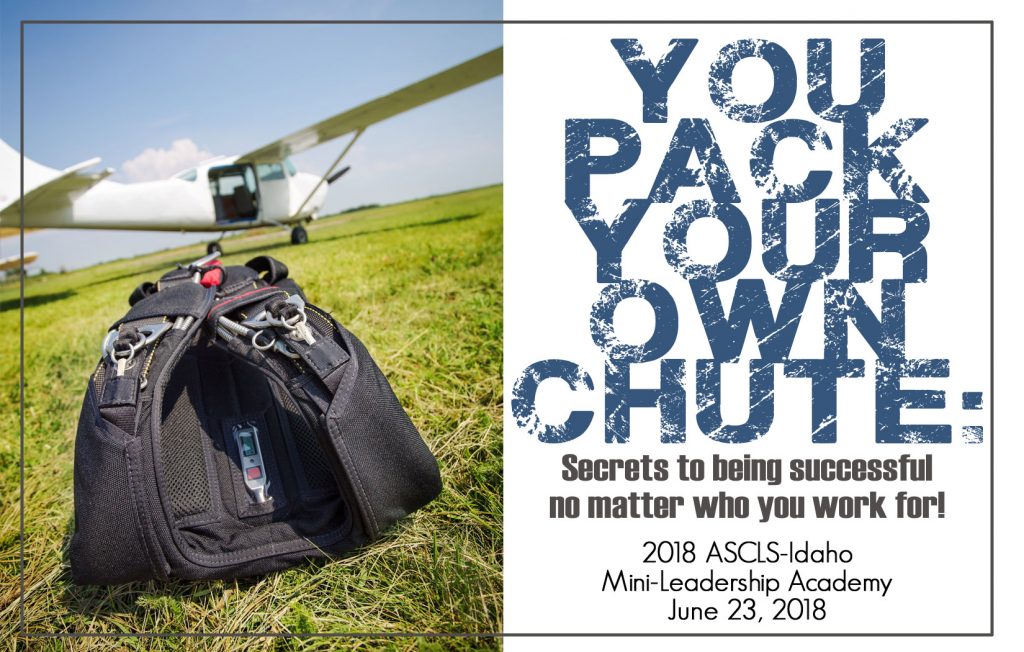 Our Spring Convention will give you the courage to JUMP!  The Mini-Leadership Academy will help you prepare for a successful JUMP!  Often times we feel that success means changing jobs, finding new opportunities or getting a fresh start.  But that is not necessarily true.  You can be successful no matter what your shift is, no matter what your position is and no matter where you work.  Success…your professional success…is within your power…because you pack your own chute!
Saturday, June 23rd, 9:30-12:30


Snake River Grill, 611 Frogs Landing, Hagerman, ID

Presented by Diane Stumpf


Registration Fee:  Member, $25, Student $15, Non-member $35

Lunch is included in your registration

Mail Registration to:  Amy Huse at 1703 W Norcrest Ct, Boise, ID 83705
Download the Registration Form HERE