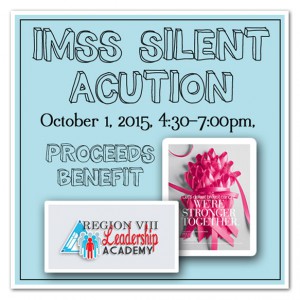 Bid High and Bid Often!
IMSS is pleased to announce that we will be holding our Annual Silent Auction to benefit Breast Cancer Research and the Region VIII Leadership Academy.  The auction will be held Thursday October 1, from 4:30-7:00 pm at the Vendor's Expo.
Bring your donated items to the Silent Auction table at the event center Wednesday evening or Thursday morning. Thursday evening when you arrive for the exhibitors' expo and silent auction, go to the silent auction table to pick your unique bidding number out of the hat. Enter your name, bidding number and contact info on the sign-in sheet. Use the bidding number to place your bid; when the time is up, if yours is the winning bid, come to the silent auction table to submit payment. The Silent Auction begins at 4:30 pm and ends with final bids at 6:50 pm. See you there!